meet the ravenscroft team
Get to know more about each talented and dedicated individual who helps bring Ravenscroft events to life!
David comes from a musical family and has been creating music since childhood. As a professional musician and studio artist, he has produced three instrumental albums, arranged hundreds of songs, and scored soundtracks for numerous video productions. David has been the Director of Ravenscroft since 2021, and indirectly connected to the project since 2018. Ravenscroft embodies everything he's passionate about - jazz, pianos, performing spaces, architecture, technology, recording, and producing inspiring concert experiences.
Stephanie is a fun-loving and genuine Midwestern girl, hailing from Cedarburg, Wisconsin, she relocated across the country in 2021 with her husband Matt. Serving others with a kind and gentle demeanor brings her great joy. She considers it a joy to serve others with a kind and gentle spirit. Holding a Bachelor's Degree in Community Engagement and Education, she looks forward to continually fostering deeper connections with her new community!
Beginning his musical journey alongside the esteemed Bob Ravenscroft in 2005, right after graduating from Arizona State University with a distinguished B.A. in Music, Rob was graced with the prestigious Jazzbird Scholarship during his time at ASU. To this day the hard bop era of the 1960's still feels fresh and timeless to and remains a constant source of inspiration for him. Rob is truly honored and humbled to have the opportunity to curate concerts for a world-class venue with unparalleled acoustics.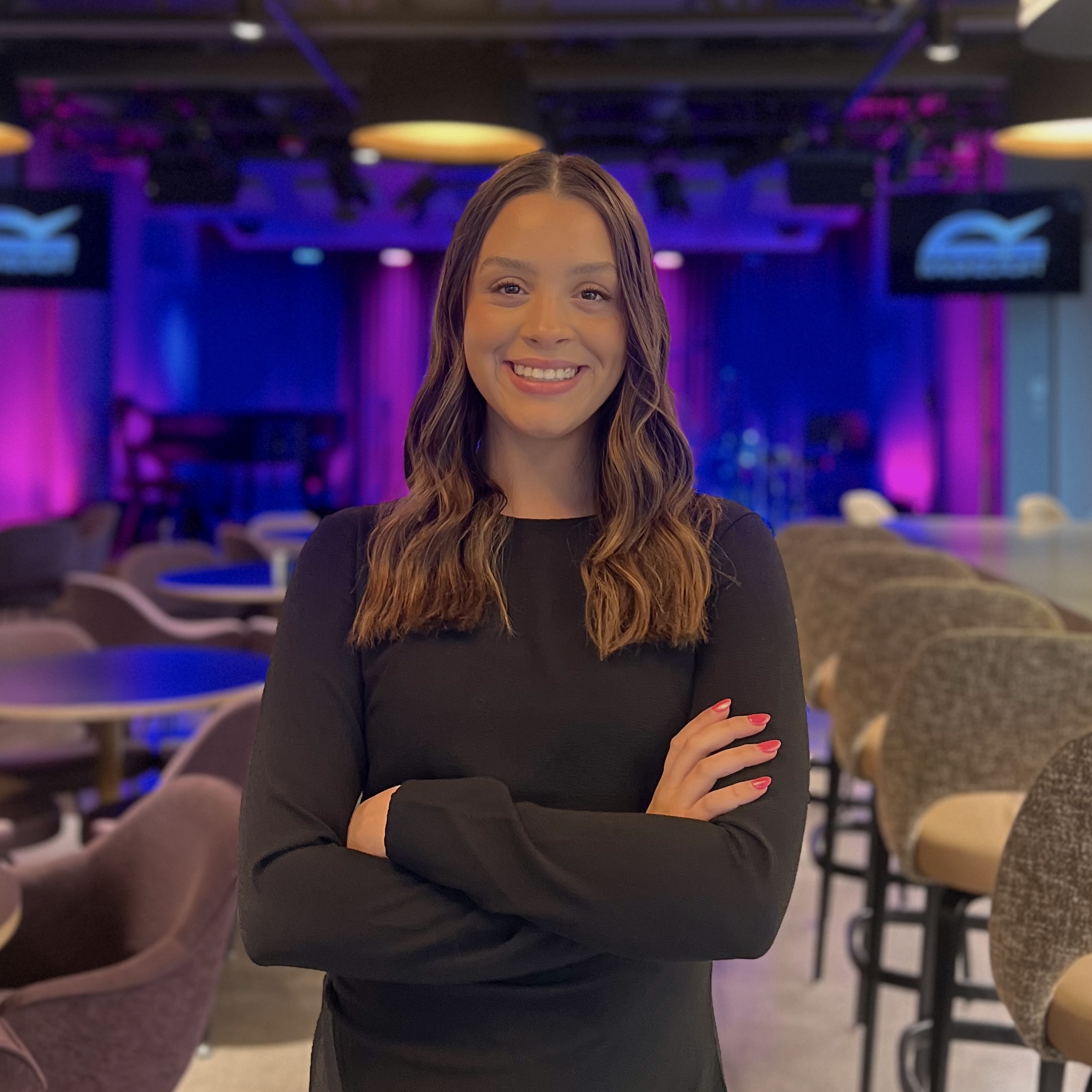 Originally from Denver, Colorado, Jordyn has called Arizona home for many years now. Having pursued a degree in Business Management from GCU, that is also where she met her now husband, Shane. Jordyn loves all things music and enjoys songwriting to her ukulele, cooking fun new recipes, and taking her puppy, Happy, on walks in her free time. Working in the music world has been a dream of hers for as long as she can remember, and she says that, "being a part of the team at Ravenscroft an opportunity that she couldn't have even dreamt up!"
Evan is originally from Los Angeles, CA, having relocated to Arizona in July of 2020. He has been married for 22 years to his beautiful wife Kristine, and they are blessed with a daughter who is serving actively in the United States Air Force. Evan is an active member in his church, and he loves to serve and assist. Working at Ravenscroft, he is grateful for the incredible facility and it's combination of beauty and cutting-edge technology. He says, "he is always giving thanks to the Lord for giving him a part to play in continuously sharing the Ravenscroft vision to the community."
Jessa is absolutely thrilled to be the executive assistant here at Ravenscroft! She is thankful for the opportunity to work and serve alongside a like-minded team of individuals, and get to know all of our wonderful guests. She recently moved to Arizona from Chicago, Illinois and has been enjoying working towards her degree in Applied Entrepreneurship, being a part of an incredible church community, living the newlywed life with her husband Jadon, and being a part of the team here at Ravenscroft! She says, "It is such a blessing to get to know all of our guests and hear their stories as well!"
FRONT OF HOUSE AUDIO AND LIGHTING TECHNICIAN
Native to Ecuador, Alejandro started his career in sound and audio production at 16 years old. He obtained his degree in Audio Production as an honors student at Scottsdale Community College. During his time there, Alejo won multiple scholarships and was the program's top recording student. He has engineered countless live shows and has worked in top music studios providing recording, engineering and mixing services. He is also an accomplished musician, producer and arranger, with many album productions to his credit. Alejo is a zealot for quality, and his care and attention to detail inspires musicians to perform at their very best. Alejandro has been a part of the Ravenscroft team from the beginning, and he has so much love and passion for not only the beautiful venue, but the artists and fellow staff that he works with especially!
Larissa has been a part of the Ravenscroft dream long before it was a reality. She says, "it has been amazing to watch this dream grow into the phenomenal experience it is today". She is originally from Ohio but over the years has lived in many other wonderful places as well. She is the proud mama of her amazing daughter, Marley. Her world is her- she loves being her mom and they are always out exploring together! Larissa strives to live in such a way that empowers everyone around her. Disneyland is her home away from home and she is there as often as she can be. She has a passion for the work she does in Iringa, Tanzania and love to visit every year. She enjoys college football, specifically her Ohio State Buckeyes! If it has to do with Star Wars, Pirates, Marvel or Disney it is a safe bet with her.